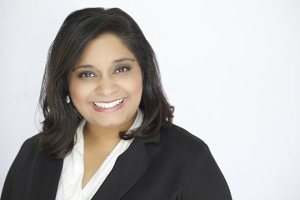 As a talented business, real estate, finance, and energy attorney, Mishty Deb has worked extensively in the public, non-profit and private sectors of the legal field.  Mishty is skilled at forging solid alliances with strategic partners and establishing consensuses across multiple levels. She successfully represents both individuals and large institutions, providing practical counsel that helps transform long-term business goals into reality while addressing daily operational challenges. Her approach to providing effective legal counsel is to think logically, critically, and creatively—she encourages her clients to do the same.
Her professional success was predicated with an impressive scholastic career which yielded dual undergraduate degrees in economics and environmental science from Southern Methodist University, and later a law degree from the University of Texas. After finishing law school, she started her legal career at the U. S. Small Business Administration (SBA), where she received the coveted Gold Star Award for Excellence for her work with small businesses affected by Hurricane Katrina. After leaving the SBA, she worked both for private law firms and as in-house counsel with financial services companies before deciding to open her own practice.
With a unique ability to draft innovative and persuasive arguments, she has had several articles published in both the University of Temple's, Journal of Science, Technology & Environmental Law and the UK's Institute of Art and Law's, Journal of Art, Antiquity and Law.
Memberships:
Texas Bar Association
Dallas Bar's Women in Intellectual Property
Battleground Texas
Hockaday Alumnae Lawyers
InterNations
Dallas Lien-In
Lakewood Women in Business
Awards:
SMU President Scholar Award
SMU Richter Fellowship Award
Wallace F. Lovejoy Memorial Award