Patents and Pumps, the Latest Sharks In Heels Workshop on October 1st
Hello Sharkettes! Excited to announce the new Sharks in Heels Workshop on October 1st from 6:30-8pm. The topic for the evening will be intellectual property rights for your business: patents, trademarks, and copyrights. This is the event to be at, but seats are limited, so sign up now. Tickets are FREE. To register visit our sister site at: www.sharksinheels.com.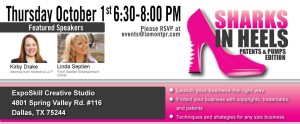 Attendees rave about the exciting, innovative, empowering, and informative workshop series with thousands of digital impressions sent out during the event. Music industry CEO Linda Septien and IP attorney Kirby Drake will reveal insider tips and tools to succeed in entrepreneurship.  In a recent Texas court decision 2015,  Apple was ordered to pay $532.9 million to an eighth  grade dropout for willful infringement of three U.S. patents, so in reality how protected are you?
Female Entrepreneurs Statistics
Employing nearly 7.8 million people

Generating $1.3 trillion in sales as of 2013

Representing 30% of all privately held firms, 14% of employment and 11% of revenues
Where:
ExpoSkill Creative Studio
4801 Spring Valley Rd. 3116, Dallas, TX 75244
When:
Thursday, October 1, 2015
6:30-8:00 PM
Contact: Molly at (214) 550-6422 for more information or to RSVP
6:30: Meet & Tweet
Get here early to snap a pic during #MeetNTweet with business bloggers, digital media experts, entrepreneurs, and socially savvy ladies. Enjoy delicious cupcakes and sip on summer delights, snap photos with fellow Sharkettes and share with #MeetNTweet and #SharksinHeels.
7-8:00: Copyrights, Trademarks, & Patents
Speakers:
About Linda Septien:
Linda Septien, CEO of the Septien Entertainment Group, is one of the most sought after talent coaches and star makers in the world, according to New York Times best-selling book, The Talent Code, Millionaire Magazine, The Little Book of Talent, ABC Nightline, D Magazine, Variety Magazine, The Daily Beast, Allure, to name  few.   Some of Linda's many working affiliations and partners include Universal Records, Sony Records, Razor and Tie, Warner Music Group, McDonalds, The NFL Superbowl, Sports Illustrated, The Voice, American Idol, X Factor, VH1, E Entertainment, Maury Povich, Apple, IBM, Hard Rock and House of Blues.
About Kirby Drake:
Partner at Klemchuk LLP, Kirby Drake is experienced in all areas of intellectual property law, including trade secret, patent, trademark, copyright and confidential information matters. Kirby earned her J.D. from Wake Forest University School of Law in 2002 and a Bachelor of Science degree cum laude in chemistry from Duke University in 1999. She is also the Secretary of the State Bar of Texas, Intellectual Property Section and Member of the American Chemical Society National Committee on Patents and Related Matters, where she serves as Chair of the Subcommittee on Legislation and Regulation.
Host: Mishty Deb